Lennox EL23XCV Air Conditioner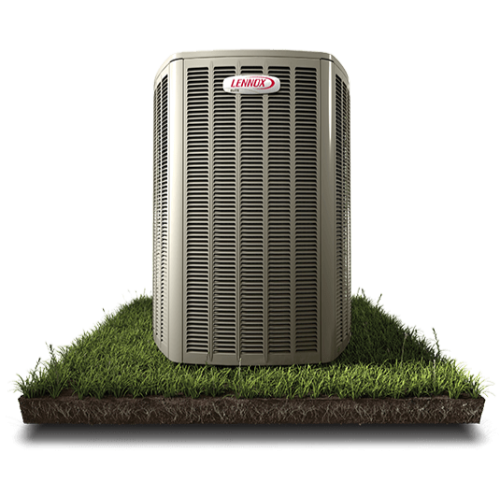 Variable Capacity, Constant Efficiency
This product offers variable-capacity operation, meaning it can adjust cooling output like a dimmer switch to perfectly match your energy use to your comfort needs. This also helps control humidity more accurately.
Use Less Energy. Save More Money.
 With efficiencies of up to 22.00 SEER2, the EL23XCV can deliver significant energy savings. In fact, it can help cut your energy bills by several hundred dollars per year. It may even help you qualify for energy rebates.
ENERGY STAR® Certified
Heating, ventilation and air-conditioning (HVAC) equipment with the ENERGY STAR label meets or exceeds federal guidelines for energy-efficient performance. An ENERGY STAR-certified AC unit could cut your cooling costs by 30 percent.
A Peacefully Quiet Environment
To reduce operating sound levels, the EL23XCV uses a sound-dampening system with a precision-balanced, direct-drive fan to ensure smooth, quiet operation. This lets it operate at a volume as quiet as 59 dB, or the sound of a dishwasher.
Your Digital Bridge into a World of Perfect Air
The efficient EL23XCV variable-capacity air conditioner is your digital bridge into a world of perfect air. When paired with a digital furnace or air handler and a Lennox S30 or S40 Smart Thermostat, it can step into a fully communicating home comfort system, maximizing its 22.00 SEER2 efficiency with modern communication features.
Our Uncontested Quantum™ Coil
With years of rigorous testing under the most extreme conditions, our Quantum Coil – featuring a proprietary aluminum alloy exclusive to Lennox – is designed to weather the harshest elements.
Smarter Together
Unlock a world of connectivity by pairing this unit with the Lennox S40 or S30 Smart Thermostat. It's the command center for a fully communicating home comfort system, with the incredible ability to monitor sensors throughout your home and in all your equipment. From detecting air pollutants and customizing comfort by room to providing maintenance and service reminders, it will even automatically alert you if your system goes out of tune and allow you to remotely share diagnostics with your local Lennox dealer.